Welcome to the webinar page of UL Xplorlabs!
As educators make the monumental shift from in-person teaching to online instruction, Xplorlabs is a valuable virtual learning resource designed to be flexible. From whole-class instruction to self-directed learning for individual students, Xplorlabs classrooms are fluid to meet the needs of online learning in all of its many forms. All webinars are completely free and open to all educators.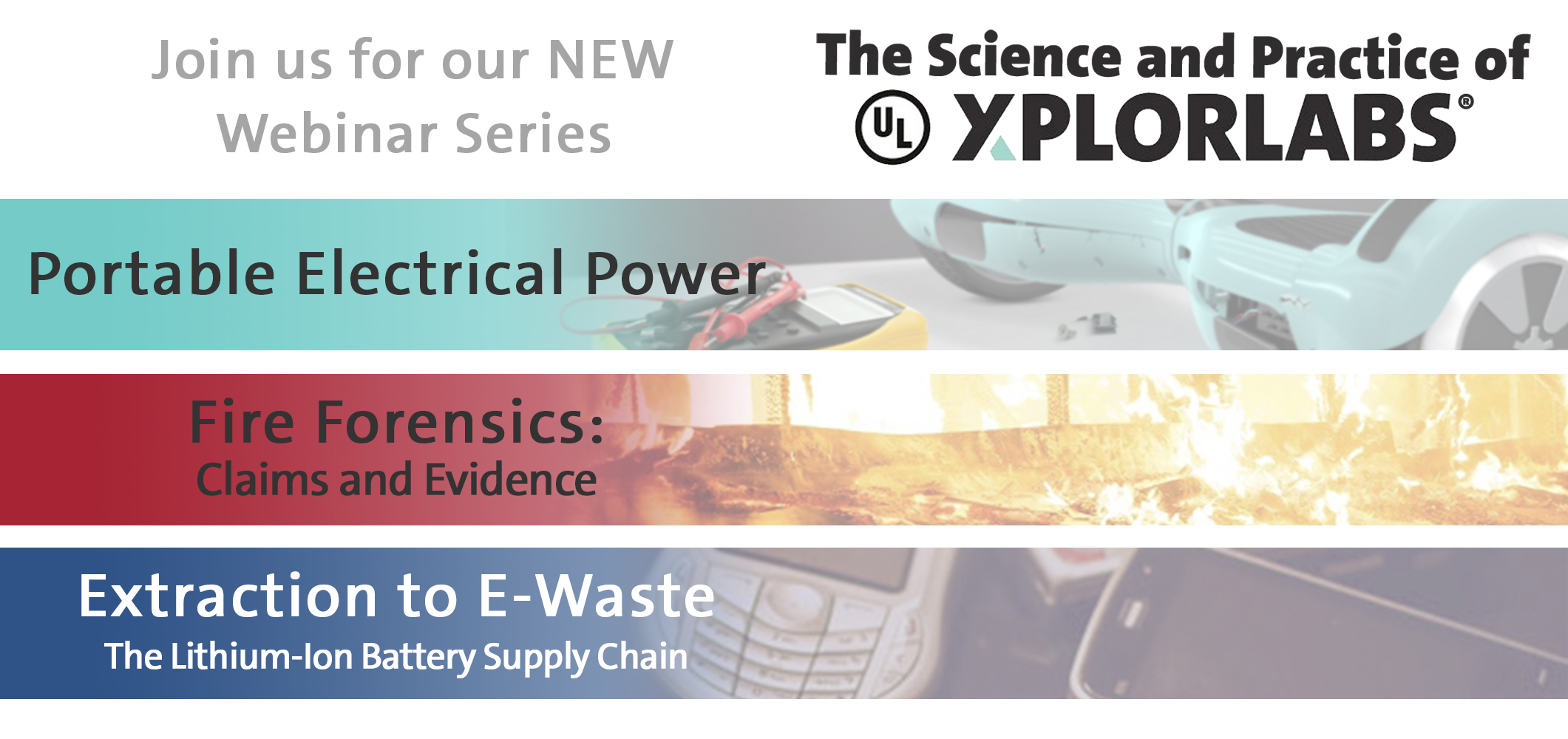 The first webinar of the series will include a presentation by UL researcher Dr. Tom Chapin about lithium-ion batteries, the phenomenon of thermal runaway, and the issue of e-waste. Then, education director Dr. Kelly Keena will walk through the newest UL Xplorlabs module built on that science, Extraction to E-waste: The Lithium-ion Battery Supply Chain.
– June 30 Program: Speakers –
---
Xplorlabs is a resource built from the science and research at Underwriters Laboratories. These resources were designed to be flexible for educators to use in their unique context and teaching style. Extraction to Ewaste: The Lithium-ion Battery Supply Chain is also a resource about trade-off's. Build a line of inquiry for your students with Dr. Katey Shirey in this interactive webinar intended to map out how to implement this Xplorlabs module with your students. Team participation is encouraged! Please view the webinar from June 30 or become familiar with the module before the webinar.
– JuLY 15 Program: Speakers –
---
Join Dr. Dan Madrzykowski to take a deeper look at fire investigation through the science of fire dynamics and ventilation. Learn how investigators build their claims supported by evidence to explain how and where a fire starts. Then, learn how students mirror this process through the Fire Forensics module. Travis Koupal will discuss how he implemented Xplorlabs Fire Forensics through distance-learning with his middle school students.
---
Dr. Amy Gilbert will lead participants through the interactive investigations that are part of UL Xplorlabs: Fire Forensics. Practice building evidence-based explanations for real burn scenarios, even as part of a distance learning environment.