Welcome to the webinar page of UL Xplorlabs!
As educators make the monumental shift from in-person teaching to online instruction, Xplorlabs is a valuable virtual learning resource designed to be flexible. From whole-class instruction to self-directed learning for individual students, Xplorlabs classrooms are fluid to meet the needs of online learning in all of its many forms. All webinars are completely free and open to all educators.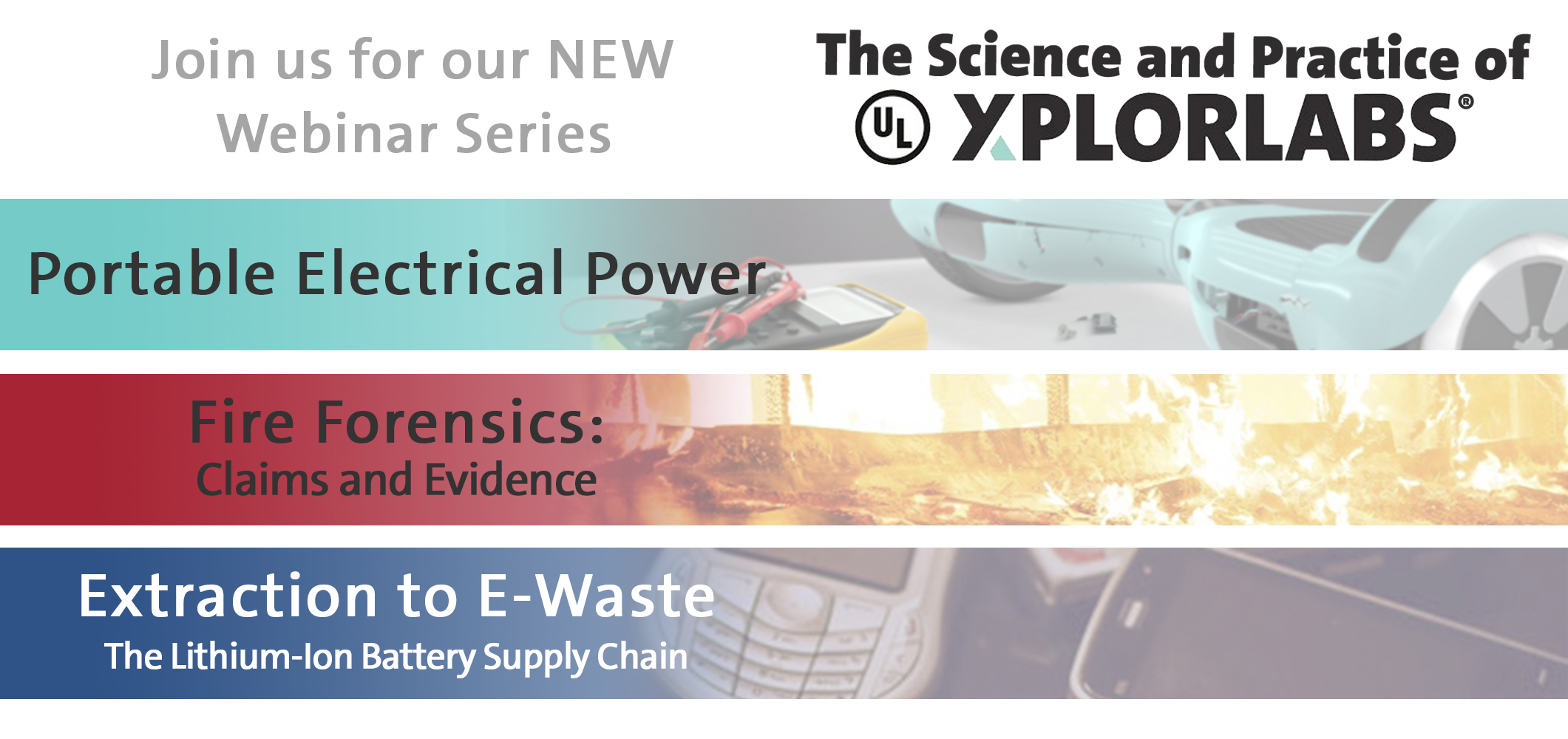 The first webinar of the series will include a presentation by UL researcher Dr. Tom Chapin about lithium-ion batteries, the phenomenon of thermal runaway, and the issue of e-waste. Then, education director Dr. Kelly Keena will walk through the newest UL Xplorlabs module built on that science, Extraction to E-waste: The Lithium-ion Battery Supply Chain.
---
Xplorlabs is a resource built from the science and research at Underwriters Laboratories. These resources were designed to be flexible for educators to use in their unique context and teaching style. Extraction to Ewaste: The Lithium-ion Battery Supply Chain is also a resource about trade-off's. Build a line of inquiry for your students with Dr. Katey Shirey in this interactive webinar intended to map out how to implement this Xplorlabs module with your students. Team participation is encouraged! Please view the webinar from June 30 or become familiar with the module before the webinar.
---
Join Dr. Dan Madrzykowski to take a deeper look at fire investigation through the science of fire dynamics and ventilation. Learn how investigators build their claims supported by evidence to explain how and where a fire starts. Then, learn how students mirror this process through the Fire Forensics module. Travis Koupal will discuss how he implemented Xplorlabs Fire Forensics through distance-learning with his middle school students.
---
Dr. Amy Gilbert will lead participants through the interactive investigations that are part of UL Xplorlabs: Fire Forensics. Practice building evidence-based explanations for real burn scenarios, even as part of a distance learning environment.
---
Lithium-ion batteries have proliferated into a myriad of applications today.  They are used not only in consumer electronics in our day to day life but are also found in several other ground, sea and space applications.  This battery chemistry has the highest energy density of rechargeable battery chemistries but along with the advantage comes the disadvantage of its propensity to experience a fire and thermal runaway if the batteries are not designed or used in the appropriate manner.  This webinar will go through the basic chemistry of lithium-ion batteries, the hazards associated with them and how one can avoid some of the causes that lead to catastrophic failures with these batteries.
---
Meet and strategize with fellow educators in this free webinar! Dr. Katey Shirey will lead an interactive planning session on engineering design, data exploration, and experimentation based on the UL Xplorlabs module Portable Electrical Power.
---
Join us for a workshop on community-building and classroom engagement in this webinar led by Sean Gray, Cobb County Fire Captain and Sally Creel, STEM and Innovation Supervisor of Cobb County Schools. Captain Gray and Dr. Creel are architects of an effective community partnership between Cobb Fire and Cobb Schools. This partnership fully utilized education and fire expertise to strengthen UL Xplorlabs: Fire Forensics as an effective, relevant learning tool for students.
---
A booming E-commerce industry, combined with spectacular advancements in rechargeable battery technology and high consumer demand, has led to significant increases in safety incidents in the battery supply chain. These events have occurred across modes of transportation: ship, rail, truck, and (in particular) aviation. Aviation presents unique challenges that make battery incidents a significant hazard and risk to both passenger and cargo operations. These incidents have caused significant disruption and even loss of aircraft and crew.
This webinar will explore the chemistry of lithium-ion batteries and their associated hazards, including how and why failure occurs. We will consider how failure impacts the battery design lifecycle and the global battery supply chain. We will discuss activities to minimize or mitigate these risks and conclude in a Q&A session with Dr. Tom Chapin, Vice President, Research at Underwriters Laboratories.
---
The Science and Practice of Xplorlabs webinar series is back for 20201! Xplorlabs resources are built from the Next Generation Science Standards' three-dimensional learning framework. Our director of education, Dr. Kelly Keena, will discuss how Xplorlabs engages secondary students in the content, process, and nature of science and engineering rooted in NGSS and the work happening in our labs..
---
Through Xplorlabs resources, students explore and apply the scientific process. Our vice president of research, Dr. Tom Chapin, will discuss how the messiness of the scientific process manifests in a career in science – and how we can prepare our students! Please join this conversation, and please invite your networks of teachers, community educators, and students in STEM degree programs to join as well.
---
How is our world designed to keep us safe? Safety standards are more than voltage and temperature requirements. They determine the safety, security and sustainability of the world around us… including objects we use every day. How? Join the conversation and learn what a Standard is, how they are made, and how they impact your life and the world around you.
---
Lithium-ion batteries power a growing number of devices from ear pods to energy efficient cars. It is important to understand the varied chemistries and chargers that exist. Poor communication between a charger and a battery creates risk. What are the dangers? How can we prevent them? Join the conversation with Judy Jeevarajan, Ph.D.