The Science of Xplorlabs: why standards matter
tuesday, april 20, 2021 – 5:00PM CENTRAL TIME
How is our world designed to keep us safe? Safety standards are more than voltage and temperature requirements. They determine the safety, security and sustainability of the world around us… including objects we use every day. How? Join the conversation and learn what a Standard is, how they are made, and how they impact your life and the world around you.
---
SPEAKERs
Denice Durrant
Standards Program Manager
Underwriters Laboratories Inc.
Denice Durrant began her 14 year career at UL Inc. as a certification engineer holding roles as a technical lead and subject matter in the testing, inspection, and certification business for building life safety technologies, primarily personal flotation devices and personal protective equipment.  In her current role, she serves as the Standards Engineering Program Manager for the Standards division of Underwriters Laboratories.  Prior to UL she served as a research and development engineer in the Engineered Products division of The Goodyear Tire and Rubber Company as well as The Intel Corporation with a focus on fibrous and polymeric materials.  Mrs. Durrant holds Bachelor of Science degrees in Textile Engineering and Materials Science & Engineering from North Carolina State University as well as Master of Science degrees in Materials Science & Engineering and Chemical Engineering from North Carolina State University. Her research focused on the electrospinning of hyaluronic acid nanofibers for use in tissue engineering scaffolds.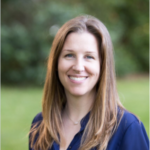 Caroline Treuthardt
Standards Engineer
Underwriters Laboratories Inc.
Caroline Treuthardt started her career at UL with the testing and certification of Personal Protective Equipment (PPE) for Firefighters 8 years ago.  She is currently part of the UL Standards department, developing safety and sustainability standards for new and emerging technologies.  Prior to working at UL, Caroline has participated in radio and electronic research for the Department of Defense, designed lighting and power plans for commercial construction, and designed flame-resistant uniforms for industrial applications.  Caroline has a Bachelor of Engineering degree in Mechanical Engineering from Vanderbilt University and a Master of Science in Architectural Engineering from Kansas State University.
---
Recorded Webinar