2018 was an extreme year for UL Xplorlabs! We launched a second science module – Fire Forensics: Claims and Evidence – and expanded the first module – Portable Electrical Power – to more schools and classrooms. The program received positive feedback from many of you and are using your insights to develop the next module and future content. Keep reading for a recap of 2018 and to find out what's on the horizon for 2019.
Awards
In 2018, UL Xplorlabs was named a "Best EdTech of 2018" from Common Sense Education for giving students the opportunity to design and test solutions to actual safety problems. The program is honored among 20 other great learning tools! This award caps off a great year in which UL Xplorlabs was also named a finalist in EdTech Digest's EdTech Awards in the Cool Tool category.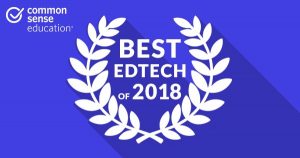 New Tools
Last year UL Xplorlabs released a toolkit to simplify the integration of Xplorlabs modules into your curriculum:
UL Xplorlabs Video – A dynamic video that provides an overview of the platform to help you quickly share and explain Xplorlabs to your colleagues and students
FAQ – Frequently asked questions to help you better understand Xplorlabs and how to implement the modules in your classroom
Overview of the Fire Forensics Module – If you are new to the Fire Forensics module, this resource is for you! The overview provides a summary of the different elements in the module and what learning tools and resources are available.
Teacher Guides – The teacher guides for Portable Electrical Power and Fire Forensics: Claims and Evidence provide an in-depth look at each module, and serve as a road map of the individual sections and supporting content.
Supplies Available in Amazon Cart – Because we know how busy you are, we created Amazon shopping lists for Portable Electrical Power and Fire Forensics: Claims and Evidence. With just one click, you can purchase nearly all of the supplies needed to run the Classroom Investigations (under $100 per module).
Easier access to videos
We heard you loud and clear – YouTube is hard to access in your classrooms. We migrated all of UL Xplorlabs video content hosted on the website over to a new video platform called Cloudflare, and based on your feedback, we know that the videos now play successfully on your school computers. The videos are still available on YouTube, where you have the option of closed-captioning to add video transcripts to the screen.
NSTA
UL Xplorlabs will be back at NSTA's national conference April 11-14, 2019, in St. Louis. Be sure to stop by the booth or visit with the Xplorlabs team during the sessions! More information coming soon.
NASA
We love how so many organizations provide free, high-quality lesson plans and programs for science teachers. NASA created a STEM Learning Teacher Guide , a science lesson on the X-57 Maxwell Electric Airplane, which incorporates the UL Xplorlabs Portable Electrical Power module! This is a great option to allow your students to dive deeper into the science and engineering behind lithium-ion batteries.
ICYMI: Free Technology for Teachers Webinar
UL Xplorlabs partnered with Free Technology for Teachers to record a webinar about the Fire Forensics module. The webinar focuses on the ideas of inquiry-based learning and how they are applied to the module. It is a great overview of how you can use the Fire Forensics module in your classroom.
Get Social With Us
Follow us on Facebook, Instagram and Twitter for the latest UL Xplorlabs news and STEM resources.