I don't know about you, but some of my best ah-ha moments from students happen when I am able to make my science lesson relevant by connecting them to the real world. To do this, I take them outside to observe natural phenomena or, if that's not possible, I'm scouring the internet for videos and other types of media. Unfortunately, students can't engage independently with many videos I find because they lack any scientific explanation or have been manipulated for social media reach instead of education.
So, imagine how excited I was when I checked out UL Xplorlabs™, which, not only was geared toward middle school students (yaaaaaass!), also hit the five features I look for when vetting resources for my classroom:
✅ Promotes student engagement
✅ Standards-based (yep, aligned to the Next Generation Science Standads )
✅ Real-world connection
✅ Hands-on investigations
✅ Budget-friendly for all teachers ….and even better in this case UL Xplorlabs is FREE!
Let's break down these FIVE FEATURES, shall we?
✅ Promotes student engagement
Currently UL Xplorlabs features two modules: Fire Forensics: Claims and Evidence and Portable Electrical Power. These modules are problem-based and encourage students to solve using science.  Right away, students are immersed in an interactive environment where they are learning from scientists and gaining knowledge to solve real-world problems.
Fire Forensics: Claims and Evidence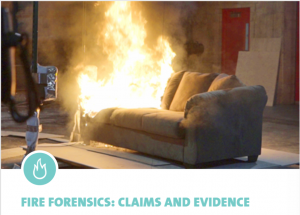 As soon as students begin the module, they immediately are informed that they're getting trained in the UL's Fire Lab to become the fire investigator who determines the cause of a fire using the scientific method to establish a claim based on evidence from the scene! I mean, come on! Middle schoolers will be locked on as soon as they read they are a fire investigator!
Portable Electrical Power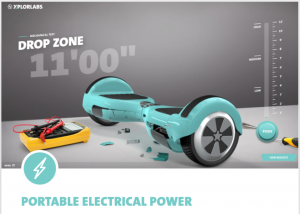 The title of this module may leave middle schoolers pondering what's in store, but there is no mistaking the image of that hoverboard on the intro page which will have students immediately clicking to see what it's all about. When students enter this module, they read, "Lithium ion batteries, we can't live without them. But living with them means accepting the risks, like thermal runaway." Whoa, whoa, whoa! UL Xplorlabs did it again … students are already asking themselves, what's thermal runaway and why are there risks? Actionable content. Students engaged. Teacher approved!
SPOILER ALERT! Just found out that UL Xplorlabs has a new module about to be launched dealing with e-waste, battery supply chains and sustainability. It doesn't get more current than this, folks! Can't wait.
✅ Standards-based lessons
Modules from UL Xplorlabs align with Next Generation Science Standards (NGSS) connecting disciplinary core ideas and crosscutting concepts. Common core alignment is also available.
| | |
| --- | --- |
| Fire Forensics: Claims and Evidence – NGSS | Portable Electrical Power – NGSS |
| | |
✅  Real-world connection
Using scientific inquiry to ask why a phenomenon happens, students can solve real-world problems and create innovative solutions for a safer world.  Check out this sneak peek from the Fire Forensics: Claims and Evidence module:
✅   Hands-on investigations
UL Xplorlabs have done their homework and created awesome investigations and STEM challenges, such as having students design a hoverboard that can stand up to protecting the lithium-ion battery pack, hold up to the weight test, as well as keeping the heat from harming someone. There is no doubt that that these activities will promote a deeper understanding of the lessons learned in each module. The best part – materials are easy to find, making these extension activities a no-brainer! See for yourself in this module preview where students compare different fuel material and the amount of energy released during combustion:
✅   Budget-friendly for all teachers
Calling ALL teachers … did I mention that these modules are offered FREE?! Yes, free! What makes this so shocking is the amount of educational value this site provides. Not only is this innovative program encouraging students to problem-solve using science and engineering, but the problems featured are those faced in current industries today. Students will begin to understand that engineering challenges include balancing design and technology innovation with operational and product safety.
This budget-friendly program has videos and interactive investigations within the modules designed for an entire class or independent learning. Teacher guides and student answer sheets are also included.
So, there you have it. If you haven't already clicked over to check out those modules and extension activities from UL Xplorlabs, then head on over!  You won't be disappointed and your students will THANK YOU!