In October 2018, fire safety education leaders from across Europe and North America convened at the Fire Safety Education Summit – hosted by Underwriters Laboratories (UL) in partnership with Disneyland Paris – to discuss the future of training, education and advocacy for fire safety among the youth population. Fire safety and education experts from the UL Firefighter Safety Research Institute shared valuable insights into resources and best practices, while learning about some amazing programs from international fire safety education advocates.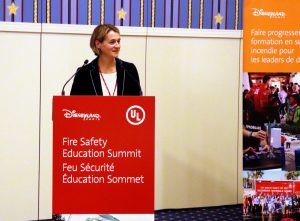 "The summit provided an opportunity to share successful education models and collaborate with fire service professionals across Europe on educating children in their communities to ultimately empower them to become safe citizens," said Cara Gizzi, Vice President, Education and Outreach for UL
Gizzi leads a multitude of education programs at UL that help inspire and empower the global safety movement. One of these programs is UL Xplorlabs, an educational platform designed to encourage students to solve through science. On the heels of the summit, the Education and Outreach team unveiled the French version of its UL Xplorlabs Fire Forensics Claims & Evidence module, which puts students in the role of a fire investigator and brings the world of fire forensics into the classroom. The French version of the module was debuted at the Cité des Sciences et de l'Industrie museum as part of their innovative fire exhibit.
The summit also featured an innovative collaboration among UL, Disneyland Paris and Fédération Nationale des Sapeurs-Pompiers de France (FNSPF) as part of the Disney Wild About Safety – Safety Smart® program. The program delivers fire and other safety information to children. To date, more than 100 fire chiefs have educated over 10,000 students through in-person classroom lessons and activities. The French program is projected to include 7,250 fire stations, visit 52,200 elementary schools and educate 1,500,000 children over the next three years.
More than 50 people representing seven countries presented on education programs from their communities, discussing topics ranging from making the most of in-classroom visits to innovative virtual reality videos designed to engage youth with new technology.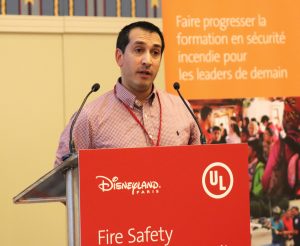 "This incredible summit enabled us to shrink the globe, creating conversations and partnership opportunities in three days that, under any other circumstance, would have taken months or even years to achieve," said Chris Bigland, Programme Lead for StayWise UK and the Education Lead for the National Fire Chiefs Council (UK). "I am immensely grateful to UL for bringing us all together at the summit to share good practice and reduce duplication. The development of thought and opportunity has simply never been achievable on this scale or at this pace."
"Our hope was that people would walk away from the summit with new ideas, new relationships and new resources because in the end, it's prevention and education that truly make the world a safer place," said Gizzi.